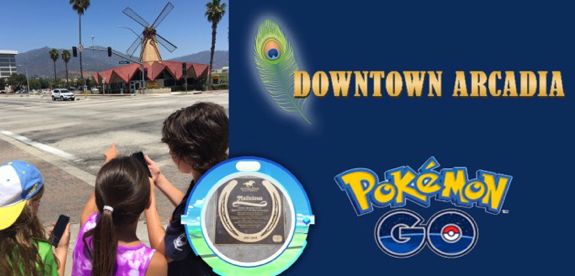 The Downtown Arcadia Improvement Association will be hosting a Pokémon Go Lure festival on Friday, Sept. 23, from 3-7 p.m. in Downtown Arcadia (First Avenue and Huntington Drive).
Pokémon Go players will have a chance to catch Pokémon at 10 lured stops between. There are also 3 Pokémon Go gyms in Downtown Arcadia.
Several Downtown Arcadia businesses will be offering special deals for players:
Hyper Coffee will offer two-for-one smoothies.
First Cabin (for players 21 and over) will provide charging stations and free water.
Hanfu Lee DDS will be giving out a free gift.
Matt Denny's Ale House will provide a discount on appetizers for players on the go.
Pok-a-dots will offer charging stations plus 10%-40% off everything in store.
The Arcadia Chamber of Commerce will be at Arcadia Transit Plaza offering a special ticket price to Taste of Arcadia, which features several Downtown Arcadia restaurants.
The Arcadia Historical Society will be on hand to give some history on the landmarks used in the game as Poké Stops.
Burger Barn will provide a special meal-deal offer for hungry players.
Denny's restaurant will have free pancakes for kids 10 and under.
Other participating businesses:
Emerald Day Spa
Law offices of April A. Verlato, which will host an information booth.
Neighborhood Music School
The Book Rack
Stay tuned on the Downtown Facebook page for updates.