Downtown Arcadia's specialty retail, restaurant and entertainment district offers you a huge variety of things to do, all to make your world more enjoyable and entertaining.
Here, in one central fun zone in Southern California, you can practice your dance moves, bake a cake (or eat one), try on costumes, roll out a new bike, browse the bookstacks, sample craft beers, taste-test a burger, get fit or get spa'd and finally play the violin.
Or maybe you'd like to start a house hunt, get some legal or financial advice, then shop for flowers, jewelry, or vintage clothes. Or bring the kids to take selfies, practice jujitsu and express their inner Picassos.
And the nightlife in Downtown Arcadia? It's the right life, set to the sounds of classic blues and R&B, singer-songwriters, mambo, salsa and a flamenco beat.
Adding to these and other amazing choices downtown, nearby you'll find the famed Santa Anita Park race track and Los Angeles County Arboretum and Botanic Garden, plus a host of hotels and other great businesses.
It's easy to get here. Arcadia's right off the 210 freeway, front and center on the "Main Street of America" — Route 66. Soon you won't even need a car to come see us. Take the Metro on the Foothill Gold Line and exit at Arcadia Station, opening in 2016 or early 2017. While downtown, you can call the handy Arcadia Transit shuttle to zip around. Or bring your bikes and cruise around.
Rich with history
This region was part of the homeland of the Tongva people for more than 8,000 years. The Tongva tribe oversaw a wide territory that extended throughout the Los Angeles Basin, plus the San Gabriel and San Fernando Valleys. In 1771, the future site of Arcadia became part of the Spanish Mission San Gabriel Arcángel holdings.
Over the next century, the rancho changed ownership several times. Finally, in 1875, Elias Jackson "Lucky" Baldwin altered history. The Gold Rush immigrant and entrepreneur bought 8,000 acres of Rancho Santa Anita for $200,000 — a hefty sum in those days.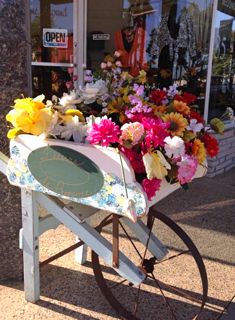 As you stroll our Downtown streets, you'll spot several History Lives Here markers: at First and Huntington, depicting the original City Hall, at First and California, for the first school; and at Huntington and Santa Anita Avenue, for the WWI military balloon school. Another marker will go up later this year at Arcadia Transit Plaza/Gold Line Station, honoring the original train station and Lucky Baldwin's elegant Oakwood Hotel.
You can also trace our racing history with the Thoroughbred Racing Walk of Champions along Huntington Drive, honoring jockeys, horses and other notables.
When Lucky Baldwin first saw this beautiful countryside, replete with streams and waterfalls, reports are he declared, "By Gads! This is paradise!" We agree. We think you will, too.
Check back often — our events page is always changing. Visit our directory for a handy guide to merchants in the Arcadia Improvement Association (AIA) and nearby businesses.
Here are a few of our favorite places where you can learn more about Arcadia past and present. Make us part of your future. See you soon!
Read about the Arcadia Improvement Association.
Handy links: